The Redhill line has over the last 10 years had services cut, journey times extended, regular cancellations and immense overcrowding. We had hopes of an improvement in our services and in fact was promised improvements in 2014 when our peak services were slashed and journeys made longer. Unfortunately, this revised timetable proposes less services again and even more journey times extended.
It is unacceptable that it is proposed that it will take only 11 minutes longer to get from Brighton to London Victoria than it will from Redhill.
It is unacceptable that it should be proposed that the Redhill line is cut off from the Brighton Main line and no longer has through services to the Coast.
It is unacceptable that a town the size of Reigate so close to London does not have a regular service to London every day of the week and that service is such that it usable on a turn up and go basis.
We would like to see two fundamental modifications to the timetable: –
A London to Brighton service to call at Redhill – all day, 7 days a week
Reigate to be served half-hourly from London – all day, 7 days a week
8 trains per hour base service to Redhill – extending across the other stations on the route
We would also like to ensure service levels are retained at Merstham and Nutfield, as well as keeping Victoria trains at Earlswood, Salfords and Horley.
We would draw your minds back to the Public meetings held over the severe cuts to the Redhill route services in 2014, where it was promised in return for accepting the cuts we would be guaranteed an improvement against the then current services. This proposal with slower trains and significant destinations removed from the direct services is not an improvement. GOVIA owned the Franchise in 2014 and do so today and they should stick to their promises.
This proposed Timetable is significantly inferior to the service in 2012, which should be the baseline as Redhill services were significantly altered to create a workable timetable for the rebuilding of London Bridge
Capacity in also an issue with already overloaded trains remaining at 6 trains per hour will not be sufficient to provide adequate customer coverage, with large housing developments in the area, increasing employment development and new leisure destinations this is not the time to be complacent with a similar to existing services but to improve the service to 8 trains per hour
It is not time for a future promise this opportunity to rewrite the whole timetable should be used to ensure that the Redhill Line finally gets the jam tomorrow it has been promised for years.
IT IS REDHILL'S TURN FOR AN IMPROVEMENT IN SERVICES – we have waited too long
Situation
Redhill Line generates a significant percentage of journeys South of Purley on the Brighton Main line (our estimates are between 17-20%) but will only receive 12% of services that leave Victoria which is not enough for passenger loads.
The table below shows a comparison of passenger numbers and train services for station South of Purley on the Brighton Main line: –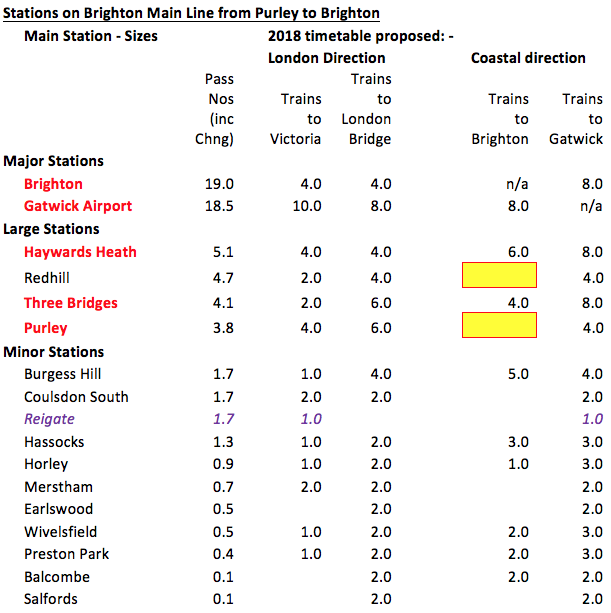 The middle group of stations are the key stations along the line and it is immediately obvious that Redhill is underserved compared to similar stations. To London, Haywards Heath and Three Bridges have 8 trains per hour and Purley 10 compared to just 6 from Redhill, but also despite being on the Brighton Main line, no through services to Brighton are proposed in the 2018 timetable.
This poor service is also applied to Reigate, which although not directly on the Brighton Main line has been included in the table for comparison. The one train per hour to London does not run evenings or Sunday meaning unlike most others listed here so the service to Reigate is even poorer than it appears.
Currently many services from the Redhill line are beyond capacity and leaving passengers at the station is not as uncommon as it should be. The new trains being introduced in 2016 will assist loading on the London Bridge although it is very disappointing that many seats are being replaced by standing space. Capacity will still be a problem especially on the Victoria route.
New Housing in Redhill, Salfords and Horley means higher demand for services. Around 1,400 new homes are already planned near Redhill, from which will bring around 40% of them with commuters. This interprets as around 5-600 extra commuters daily at Redhill. This is already overshadowed by another planning proposal for 4,500 homes locally and additional houses in the local plan. At Meath Green near Salfords building has already started on 600 plus new homes with opportunities for more to be added.
Capacity is thus a significant issue and suggest that Redhill will need 8 trains per hour as a base service by 2018 or shortly thereafter, thus this timetable is the correct time to put that facility firmly in place.
The Redhill line is also a destination for commuters and school traffic (especially at Reigate for the college based there) and the lack of consistent service (regular all day service) from the South in recent years since Brighton trains were removed, have meant that local businesses have struggled to find employees and the local commuter base suffers in that the entire commuter service is biased towards London plus travelling off-peak journeys can involve two changes.
Changes requested on the new timetable for Redhill
Even including the arrival of Crossrail, the London Bridge/Thameslink route is not a viable alternative for London Victoria passengers. London is so large these are very much different destinations and depending on required destination in London, passengers will select the most appropriate terminal. The fact that on average it is a 50/50 split between each at most stations means the requirement should be for a 50/50 split in train service.
The proposal to extend normal Journey time from Redhill to Victoria by over 40% is not acceptable. Redhill has been less than 30 minutes to Victoria since whenever most of us can recall. The reliability of two trains per hour to Victoria taking less than 30 minutes is an accepted fact for Redhill passengers. To extend these to almost 40 minutes is totally negative. It is not only the 2 million plus Victoria journeys that are affected every year but also those to Clapham Junction for Waterloo, other South West Destinations and to Shepard's Bush on the London Overground.
We thus request that this is returned to main line trains taking 28 minutes from Victoria.
This can be done two ways: –
Either:
a) Make a current Victoria to Brighton train call additionally at Redhill
b) Reigate/Tonbridge services to run fast from Redhill to East Croydon as currently
The Reigate Conundrum
The proposal to run shuttles to Reigate is considered by our members consulted to be unacceptable. The key reason is the unreliability of the Shuttles previously provided, often in the evening the entire shuttles go missing if a driver is ill or delayed. Same goes for complete loss of peak morning services leaving passengers scrambling around for buses or other to get to Redhill.
We agree with GTR's statements in public meetings that the best answer is Platform 3 at Reigate and then the Bedford to Gatwick services becomes a Bedford to Reigate service running 7 days per week. This would provide a half-hourly service to Reigate from London stopping at Merstham, Coulsdon South and Purley for school traffic.
However, the current situation is that platform 3 is not programmed yet by Network Rail so we must look to alternatives.
We strongly believe that Reigate needs two trains per hour. Passenger usage at Reigate Station has doubled in last 10 years from 800k journeys to over 1.7M journeys. However, it is constrained by the short platform
Reigate is a station where there is significant latent usage due to the unreliability and lack of direct trains during much of the day, many passengers drive to Redhill or Merstham to catch the more regular direct service and avoid getting trapped at Redhill station when returning from London. Redhill has a shortage of car parking spaces with a waiting list often over a year long and Merstham has parking problems around the town caused by commuters parking.
Reigate also has a growing business community including a major Insurer plus a major college where students come and go throughout the day. We have surveyed our community and from almost 200 responses we discovered that around 50% of Reigate residents travel to Redhill or Merstham for train services. Around 65% would walk to Reigate if a regular train service was provided. This means passenger numbers will double very quickly if the regular service all day is introduced.
We thus propose that this can be achieved by using splitting of trains from Victoria at Redhill station. Once at Redhill the half hourly Victoria service should split, in each Half hour the front portion should go to Reigate providing a half hourly service to Reigate from London. In the first half hour, the rear portion should extend to Tonbridge maintaining the existing service, in the second half hour the rear portion should extend to Gatwick, calling at Earlswood, Salfords and Horley providing a new hourly fast service from these stations to Victoria all day every day.
This pattern would benefit not only Reigate with a Half hourly London Service but also mean that Earlswood and Salfords are reconnected with Victoria in off peak times which was lost in 2014 for evening services and 2008 for day time services.
This services pattern should repeat from Monday to Saturday all day from start of service to late evening (last service not before midnight) and on Sundays either continue or become hourly as a Victoria to Reigate/Tonbridge service.
The calling pattern from Redhill to London is dependent on the ability to route a Brighton service via Redhill. We believe this can be done and thus this Reigate to Victoria could act as a local service between East Croydon and Redhill. An additional advantage of this proposal will guarantee 8 coaches at all times from Redhill to Victoria which will be a big improvement from East Croydon to Victoria than the current four coach services.
The Brighton Train
In 2008 there was a half-hourly train service between Brighton and Redhill which went onwards via London Bridge to Bedford – a regular Thameslink service. This was swapped out in a reorganisation of the Brighton Main line but the Redhill route received trains from the Arun Valley instead. In 2016 these were diverted to go fast along the Quarry line meaning a 5-minute reduction in journey time for Arun Valley customers to Victoria. However, the far more numerous Redhill Line customers now face an 11-minute increase in journey time to Victoria.
Currently on Sunday there is an hourly service to Brighton all day (alternating with a Bognor service) but both will be removed by the proposed 2018 timetable meaning the last regular service from Redhill to the coast is withdrawn.
Why does Redhill need a service to/from Brighton?
There are key employment centres at Gatwick/Three Bridges, Haywards heath, Burgess Hill and Brighton that there is a need to commute to from Redhill line stations
Redhill and Reigate are key employment areas and staff need to be able to access the area directly by train. If there was a Brighton train, then Redhill would have direct connection and Reigate with one change
The proposed situation means that a commuter from Redhill District/Reigate to Brighton is effectively forced onto cars to get to work. It also will make it difficult for Reigate and Redhill businesses to attract labour from the South which would be beneficial for these businesses
With planning restrictions on car parking spaces at offices being enforced businesses are increasingly looking to get people to come to work by train. Not having direct services will make Redhill and Reigate less attractive to businesses and to commuters.
More than this it means more cars on the roads as the idea of commuting either way by train is not straightforward forcing this commuting traffic onto our crowded local roads.
Additionally, there is a strong leisure traffic both to Brighton and local business in Redhill are trying to attract from the line. This traffic as well is significantly put off by changing at Gatwick Station. Gatwick is a nightmare station to change at and the new proposals are solely aimed at Airport traffic meaning it will remain so.
Currently Brighton is proposed to be served by 8 trains per hour from London, 4 from Victoria and 4 from Thameslink. Two of the trains from Victoria are express trains taking less than an hour, operated by Gatwick Express and the other two are also relatively fast trains stopping at only 4 stations on the rout to Brighton, two of those in London itself.
We believe the second set of fast trains from London is unnecessary and could be diverted via Redhill to provide a better service. Also by rejigging the stops you could make one of the Thameslink trains faster meaning London Bridge and Thameslink can be got to faster from Brighton.
Local Stations
The proposal to remove all Victoria trains from Earlswood and Salfords is not acceptable. We want GTR to ensure that there is a Victoria service in the Peak and preferably for most of the day. Our proposal for the Reigate service does do this by providing an Earlswood/Salfords to Victoria service all day.
Overall Brighton Main line service
We have looked at the Brighton Main line services heading south from Purley (we have excluded Milton Keynes and Southern Metro Stopping Services.
Govia Thameslink Timetable – Proposed
Govia Thameslink Timetable – RRDRUA Preferred
Govia Thameslink Timetable – RRDRUA Alternative
When looking at this in terms of a Brighton services from London there are 8 per hour. The services from Victoria are Gatwick expresses which only stop at Gatwick and a fast service calling at CLJ, ECR, GTW and one other station. However the Thameslink services whilst only stopping at ECR before Gatwick then take either 4 or 5 stops before Brighton, meaning services from Brighton to Thameslink are much slower.
RRDRUA suggest a calling pattern that still allows a fast service from Victoria to Brighton which is the Gatwick Express, but the second service calls additionally at Redhill, Three Bridges (for Crawley) and Burgess Hill, which would take between 9 and 11 minutes longer than currently. However, 2 of the 4 Thameslink services could lose stops at Three Bridges saving 3 minutes on journey time to Brighton. Haywards Heath could be swapped for Three Bridges.
This proposal also shows changes to the stopping pattern of Thameslink Slows, so that one of the half hourly trains calls at all stations and the second is fast. We think this would provide a better balance and mean the Horsham longer distance service saves considerable time on its journey into London making it more attractive.
We have also shown our proposal for the Victoria to Reigate half hourly services with extensions to Gatwick and Tonbridge alternate half hours.
Lastly a less preferred option of a fast service from Reigate (with half hourly splits to Tonbridge and Gatwick) without the extra Brighton service that we would like to see instigated. The Thameslink services would fill the gaps with both half-hourly services calling at Merstham, Coulsdon South and Purley as they do now but with the extension of journey times. This is better than the Victoria service calling at these stations as it means the more regular service picks up the extra stops but there is less waiting at the London Stations for the service to make journey times even.
Conclusion
There are two major planks to our preferred solutions.
As there is a fast service provided from London Victoria to Brighton by Gatwick Express that is not a premium service, the second train each half hour from Victoria provided by Southern should call at more stations including Redhill.
Reigate needs two trains per hour to London all day every day and not connecting shuttles or GWR services, this is best provided by splitting the trains every half hour at Redhill, with one half hour maintaining the existing Tonbridge service and the second creating an additional stopping services between Redhill and Gatwick.
We have also included a response to each of the questions in the survey.
RRDRUA and all the passengers at Redhill Line stations urge GTR to honour its promises to them when devastating our local services for the London Bridge works and provide an improved service against the 2012 baseline including reinstating services to Brighton.